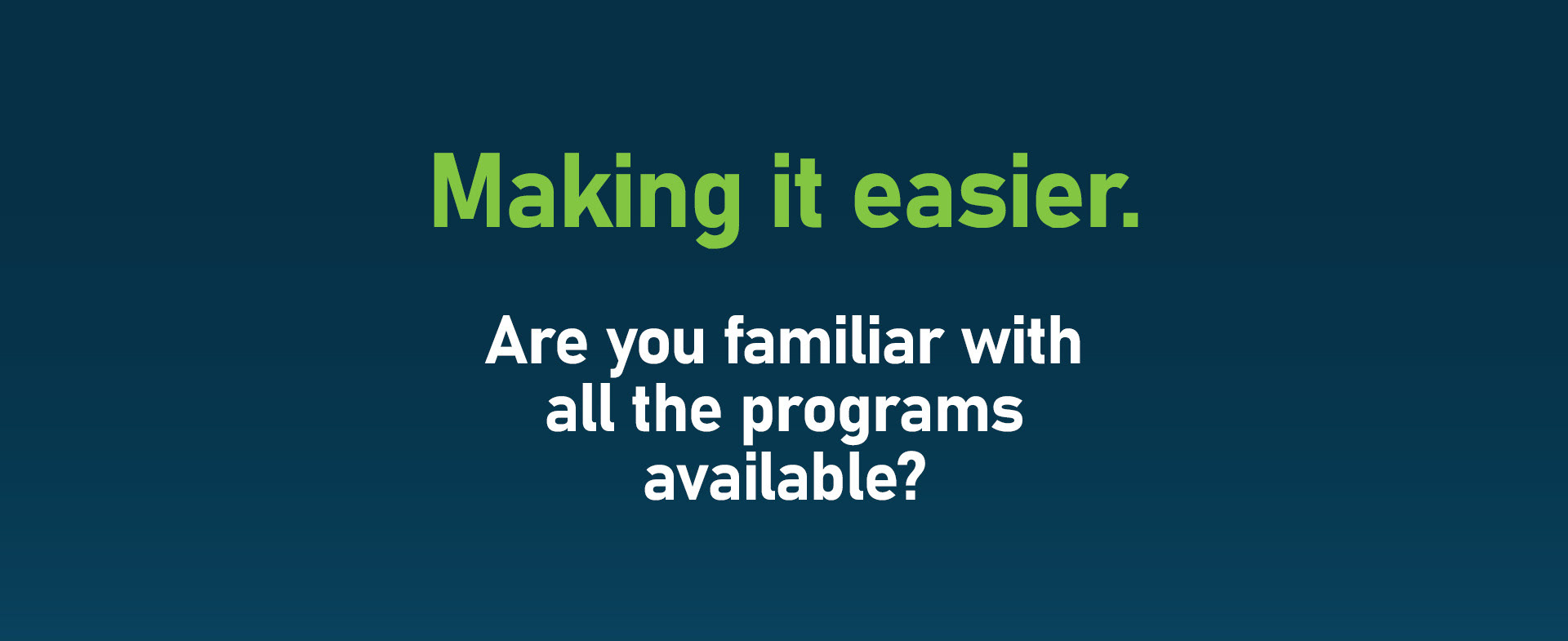 Government Financial Support Programs
Current and major support programs for business provided through the Federal and Ontario governments as of January 7, 2021. For up-to-date information about these programs, please ensure that you visit the links in this document.
Federal Government Financial Support Programs
The Canada Emergency Rent Subsidy (CERS) replaces the Canada Emergency Commercial Rent Assistance (CECRA) program and provides direct payments to qualifying renters without the participation of landlords. The program is in effect September 27, 2020 to June 2021. The CERS program includes a base subsidy and additional lockdown support for businesses and non-profits significantly affected by a public health order of a week or longer.
There is no minimum revenue drop required to qualify. The rate of an applicant's revenue decline is subsequently used to calculate the subsidy. There is a calculator available to help businesses calculate their subsidy amount. Further information can be obtained through the CRA Business Enquiries Line at 1-800-959- 5525.
The Canada Emergency Wage Subsidy (CEWS) provides a financial subsidy to employers for employee wages retroactive to March 15, 2020. The program is effective until June 2021.
Eligibility for the program is based on revenue decline by comparing levels during the COVID-19 crisis with a previous period (baseline revenue). Qualifying employers receive a percentage of employees' pay based on these variances. There is a calculator available to help businesses calculate their subsidy amount. Information on CEWS applications can be obtained at 1-833-966-2099.
The Canada Emergency Business Account (CEBA) provides interest-free loans of up to $60,000 for small businesses and not-for-profits. Repaying the balance of the loan on or before December 31, 2022 will result in loan forgiveness of 33 percent.
As of October 2020, eligibility for CEBA was expanded by removing the previous condition of a business needing an active business chequing/operating account. Businesses can now apply after opening a business chequing/operating account with their primary financial institution.
As of December 4, 2020, approved CEBA applicants can receive a $60,000 loan. Recipients of the earlier $40,000 loan may apply for an additional amount up to $20,000. The program is available from more than 220 financial institutions across Canada. Further information can be obtained at 1-888-324-4201.
The RRRF provides an interest-free loan to businesses and not-for-profit organizations affected by the economic impacts of COVID-19, that are unable to access other federal relief measures, or require additional support. There are two funding options through the RRRF: both loan options will support six months of eligible and supported fixed operating costs up to a max of $40,000 or up to a max of $1 million, depending on the option. The timeframe to consider costs is March 15, 2020 to March 31, 2021.
Some of the eligibility criteria organizations must meet includes: facing funding pressures with fixed operating costs as a result of the COVID-19 pandemic; have applied to other Government of Canada COVID-19 relief measures for which they are eligible; were operational prior to March 15, 2020; and have an active business chequing/operating account.
Provincial Government Financial Support Programs
The Ontario Small Business Support Grant was announced in late December 2020 and will provide a minimum of $10,000 and up to $20,000 to assist organizations during the pandemic.
Small businesses required to close or restrict services during the Provincewide Shutdown can apply for this one-time grant. Eligible businesses must have less than 100 employees with a minimum 20 percent revenue decline in April 2020 compared to April 2019. Eligibility criteria for businesses not in operation during April 2019 or April 2020 will be announced shortly with other criteria and an application portal. Essential businesses permitted to operate with capacity restrictions are not eligible.
Businesses that are, or were, required to shut down or significantly restrict services due to provincial public health measures can apply for rebates, provided in the form of grants, to help with their property taxes and energy costs. All small businesses that are eligible for the Ontario Small Business Support Grant are also eligible for these property tax and energy bill rebates.
Eligible businesses could get rebates for 1) municipal and education property taxes, and 2) energy costs, including electricity and natural gas (or where natural gas is not available, propane and heating oil). Funding will cover the entire length of time that regionally targeted public health restrictions are in place. Most businesses can expect to receive their rebate payments within a few weeks of submitting a complete application. Further information can be obtained at 1-855-216-3090.
The COVID-19 Energy Assistance Program for Small Business (CEAP-SB) provides a one-time, on-bill credit to eligible small businesses and registered charity customers. Recipients may be eligible for up to $850 in support if they primarily use electricity for heating, or up to $425 for other forms of energy.
This program is being delivered through electricity distributors, natural gas distributors, and unit sub-meter providers who will collectively receive business applications.
Small businesses of two to nine employees in the retail, accommodation, maintenance, and fitness sectors can apply for a one-time grant up to $1,000 to assist with Personal Protection Equipment (PPE) expenses. Further information can be obtained at 1-855-216-3090.
The Ontario Small Business Support Grant is intended to help small businesses (including sole proprietorships) in Ontario that are required to close or significantly restrict services under Ontario's provincewide shutdown effective December 26, 2020.
Eligible businesses can receive between $10,000 and $20,000. Starting at $10,000 for all eligible businesses, the grant will provide businesses with funding up to a maximum of $20,000 to help with revenue losses expected as a result of the province-wide shutdown.